This tutorial will teach you on customizing Ubuntu a bit. We wont go into alot but just some cool things i did to my desktop. Things that you can do to yours!
-Getting Started-
Firstly to do these things you may need a decent graphics card.
Ok now go to
System>Preferences>Appearence
Then you will get a box, go to Visual Effects and Click the like high effects one. Should be at the bottom of visual effects tab.
This is so some of the things we will do work. Like Compiz Fusion
-Compiz Fusion-
Ok for some of the cool things you can do we need Compiz Fusion. This is a program that will do things like write fire, view multiple desktops at one time and much much more! Lets now install it.
Ok first off open up the Terminal
Located
Applications>Accessories>Terminal
Once Opened then type in
Quote:sudo apt-get install compizconfig-settings-manager
It will then ask for your password, so type it in then hit enter.
Wait as it installs, once it is done then you may close the terminal.
Access the newly installed program but going to
System>Preferences>CompizConfig Settings Manager
Here You can change the settings, go crazy and mess around with it. It is there which you can enable the ability to write fire on the desktop!
-Gnome Do (Dock)-
Gnome Do will allow you to have a dock! Yes a dock, like the things on mac's
To Install it first go to
Applications>Add/Remove...
Then in the search bar type
Quote:Gnome Do
As a result you will see Gnome Do
Click the box near its name to check it. Like so....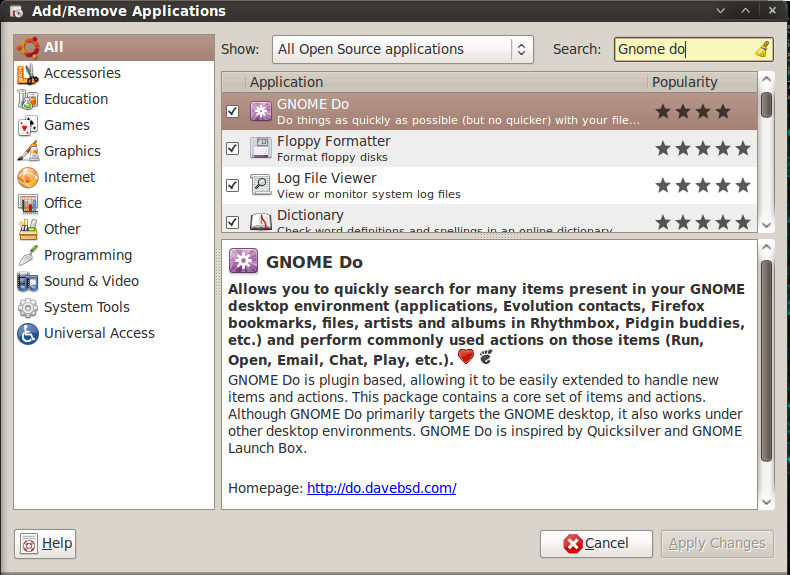 Once its checked click
Apply Changes
There you go now you have Gnome Do Installed!
But your not done yet, now lets edit the preferences.
To Open Gnome Do go to
Applications>Accessories>Gnome Do
On the window that shows up on the centre of the screen, click on the arrow button on the top right corner and select Preferences. Then, click on the
Appearance
tab. Under the theme drop down bar, select
Docky.
There you go now you have a dock on your desktop, you can add icons to the dock and remove them. Play around with the settings and have fun!
*Screenlets*
Screenlets is what shops up on the desktop, like programs running on your screen, like the widgets on vista. Well lets show you how to install them.
First off open the terminal up
Then in it type
Quote:sudo nano /etc/apt/sources.list
Then at the end of the file add this
Quote:deb http://ppa.launchpad.net/ketilwaa/ubuntu RELEASE main
*Be sure to change RELEASE to your release name, for example jaunty.*
Then save
Then in the terminal type
Quote:sudo apt-get update
Then after that type in the terminal
Quote:sudo apt-get install screenlets
Now it is installed, access it by going to
Applications>Accessories>Screenlets
Now you can add your screenlets to your desktop!
Here is a picture of my desktop with the dock and screenlets!
Be sure to check out iBruteforce's New thread on Linux